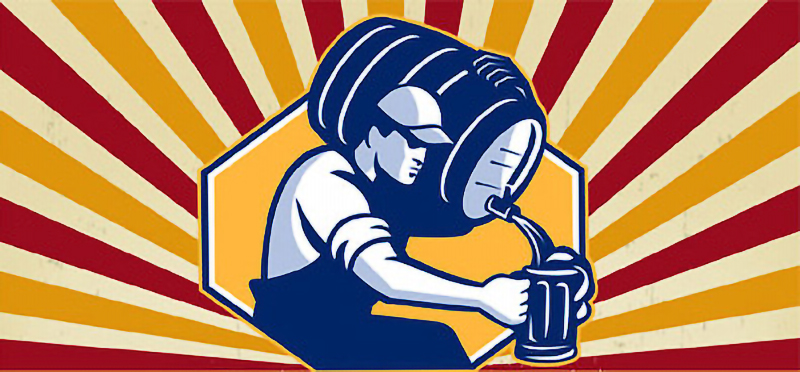 STEINLEY CUP MICROBREW FESTIVAL
Postponed until 2021
Wyoming Breweries to vie for State Title
The official State of Wyoming Microbrew Competition will be held in Saratoga, Wyoming. Microbreweries from Wyoming are slated to compete for the coveted Steinley Cup at the annual competition held since 1996. This year's competition brew will be judged by a panel of brewing professionals from Colorado. The event starts at 1 p.m. and goes until 5 p.m. at Veterans Island Park, two blocks from downtown Saratoga.
"This craft beer festival is unique because only microbreweries based in Wyoming are invited. It was one of the first beer festivals, and is the original competition for microbrews in the state– known by the brewers as the official competition. No-one can claim they're the best in the state unless they have carried the Steinley Cup trophy home," says Stacy Crimmins, CEO of the Saratoga/Platte Valley Chamber of Commerce.
A burgeoning craft distillery industry is underway in Wyoming and those based in the state were also invited to attend.
Live music will provide entertainment for the half-day event. The park location features great playground equipment for the kids and horse shoe pits. Local and regional crafters will be showing their hand-crafted creations so you can bring home your own trophy.
The annual Chili Competition will be planned for Saturday also. With the paid entry, you can taste the red chili, green chili, and salsa entered in the contest and then place your People's Choice vote. But get tasting right away—the chili could run out! "The sampling is so good that everything is gone by about 2:30," notes Crimmins. Please call the Chamber at 307.326.8855 if you'd like to enter a favorite family recipe and join the fun! In addition, food vendors will also be on hand all day to stave off the hunger pangs.
"Admission is $30.00 for everyone aged 13 and older. Admission is free for children aged 12 and under. With paid admission, you can enjoy live music, taste great chili, soda and beer, receive a 12-ounce mug, vote for your favorites in the competition class, and shop at the local craft booths," Crimmins said.
Sponsors of the event include Carbon County Visitors Council, The Saratoga Hot Springs Resort, Country Store, Valley Foods & Liquor, Hotel Wolf, Aspen Sky Merchants Mall, Firewater Public House, North Fork Engineering, VIP Marketing, The Red Wagon and Bridge Street Bargains.
Chamber Board Chair Jonathan Schnal, says "Rain or shine, bring a lawn chair, your kids, and make a weekend of it!"
***Dogs are not allowed at this event. Please make other arrangements.